As From a Fleece
The London Series
London, 1989-1990
A vertical concertina format for a long screen printed
design with text printed letter-press in Helvetica – over 3m in length – 26 pp on Rivoli paper held in card folder with translucent wraparound.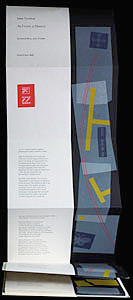 Please inquire about individual titles. Many of our artist's books are out of print and listed for reference purposes only.