Chesil Bank South
Illustrated with a rendition of an Ordinance Survey map of Chesil Bank, in two versions, both with text printed letter-press in 14 pt Times Roman: 1) 200 copies – 8 pp on Glastonbury Book paper 24 x 16.5 cm stapled to grey sugar-paper covers, with map printed ochre in relief. 2) 75 signed copies, with map printed blind-intaglio, with the same letter-press text on J. Green mould-made paper, sewn into Strathmore card covers.

(A second edition of the intaglio version was printed in1980 in an edition of 100 unsigned copies, 40 of which were destroyed in the press flood of 2000.)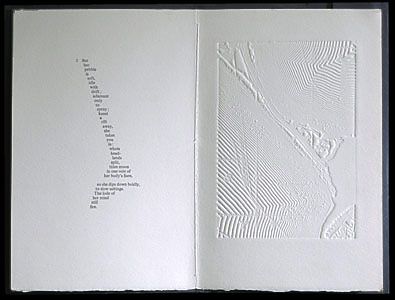 Please inquire about individual titles. Many of our artist's books are out of print and listed for reference purposes only.